Founder Anne Marie Borsboom explains to Business Doc Europe how her ShareDoc initiative is designed for doc-watchers "with a philanthropic mindset."
By scanning a QR code at the end of a screening audiences can donate directly to the protagonists whose lives they have just observed. Or if not financially, then they can engage in impact activity in other ways, such as by forming a petition, Borsboom suggests, or arranging a protest or even simply communicating their support (via the film's producer).
"I'm a filmmaker, so I make documentaries and I love documentaries," adds Borsboom. "And I always was so irritated that if you see a film at a festival or wherever, what can people do if their heart is bleeding and they want to do something? I call it the post-documentary blues. We thought these could be easy to resolve by giving them a tool they can use to donate."
"We exist to amplify the social impact of documentaries for the protagonists/charities involved in the project," Borsboom further explains online of her non-profit Creative Europe-supported initiative. "We believe in guiding the audience towards immediate action while bridging the gap between the documentary industry and documentary lovers. It's time to act! Our documentaries-focused platform bridges a gap by enabling the audience of documentaries to take action immediately after watching the documentary."
The company website describes how ShareDoc's "easy-to-access technology facilitates actions and brings additional value to the industry by enabling us to measure the impact of each film while increasing audience engagement and participation."
Four documentaries screening at FIFDH are signed up on ShareDoc. These are Pieter Van Eecke's Holding Up The Sky; My Name is Happy by Ayşe Toprak & Nick Read; Simon David's Zadvengers, and Lotus Sports Club by Vanna Hem & Tommaso Colognese. These are early days for these films, and if little has so far been raised by way of cash for the protagonists, engagement levels are nevertheless encouraging. After its FIFDH screening Holding Up The Sky registered 360 views.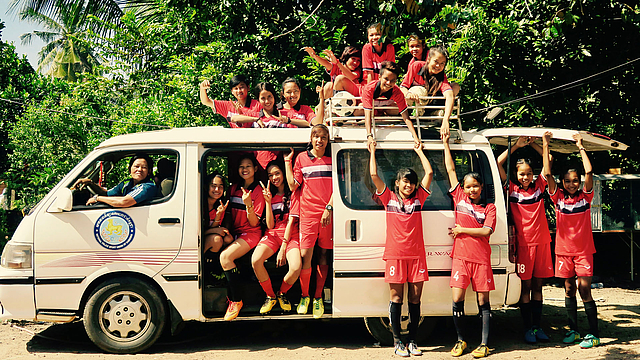 In terms of meaningful (and impressive) financial interaction, Borsboom points to Simon Lereng Wilmont's Ukraine docs A House Made of Splinters and The Distant Barking of Dogs which have garnered donations amounting to €5,215 and €5,118 to date.
Borsboom further stresses how, for reasons of accountability, single donations of over €5000 will be distributed to film protagonists not by the producer but by a local charity or organisation.
"I hope that within a year most of the filmmakers in the world know that we exist, and right now I have to work to reach them – it's a lot of work," says Borsboom. "But they need to know that we exist. That's my goal at the moment, visibility of the platform. Then if it seems to be a success in three years, maybe I will hand it over to a bigger organization… I want to also make films again."
ShareDoc was launched at IDFA 2022 before its January 2023 roll-out at Fipadoc (Biarritz). Immediately after FIFDH, the sharing platform will partner with CPH:DOX, One World and Movies That Matter.