On 25 September, Malmö's Scandic Triangeln hosted a panel that delved into the opportunities brought about by the ground-breaking impact platform ShareDoc, including a case study focusing on the award-winning documentary A House Made of Splinters by Simon Lereng Wilmont. The discussion, moderated by Sini Hormio, of DocPoint – Helsinki Documentary Film Festival, was part of the industry talks organised by Nordisk Panorama (21-26 September) and saw the participation of Final Cut for Real producer Maria Kristensen together with ShareDoc founder and filmmaker Anne-Marie Borsboom (see the interview).
Presented as "a tool for change", ShareDoc supports the protagonists of any given documentary by prompting a "call to action" through a simple QR code shown at the end of each screening. By scanning the code, viewers can donate money, "bond with the filmmakers" and be an active part of the film's impact campaign.
Borsboom admitted that ShareDoc was born of "the frustration of hearing terrible stories in documentaries" and the feeling of powerlessness which followed. The tool was launched at IDFA last November: "It took several months to build the platform, but it was a success right away after the launch; [it was more successful] than I expected."
Kristensen used ShareDoc while working on some of her projects, including A House Made of Splinters and The Distant Barking of Dogs. The first picture, which premiered at Sundance in 2022, follows children and staff in a Lysychansk orphanage, to which the former have been taken from their homes while awaiting court custody rulings.
Speaking on the impact of ShareDoc on the second film, she said: "It came as [something that was] too good to be true. We were looking for donations for this family stuck in the basement while Mariupol was under siege. We knew we needed to do something for them. In Denmark, it would have taken a month to set up such a fund and have it approved, whilst other platforms charge huge fees. ShareDoc would only have taken a one-off payment," said Kristensen.
"We printed postcards first, and then we put the QR code on the 'back' of the DCPs so it was displayed right after the screening, so that way, people could hopefully scan it and donate. At the IDFA launch, we showed the film, and there was a Q&A with Simon [Lereng Wilmont], and we had the QR code right behind him. We could see donations trickling in right away, and we raised more than €1,000 from that screening alone," she continued.
The QR code can be added right after the screening, added Borsboom, but she advised implementing it at the editing level already, so it can be fully customised.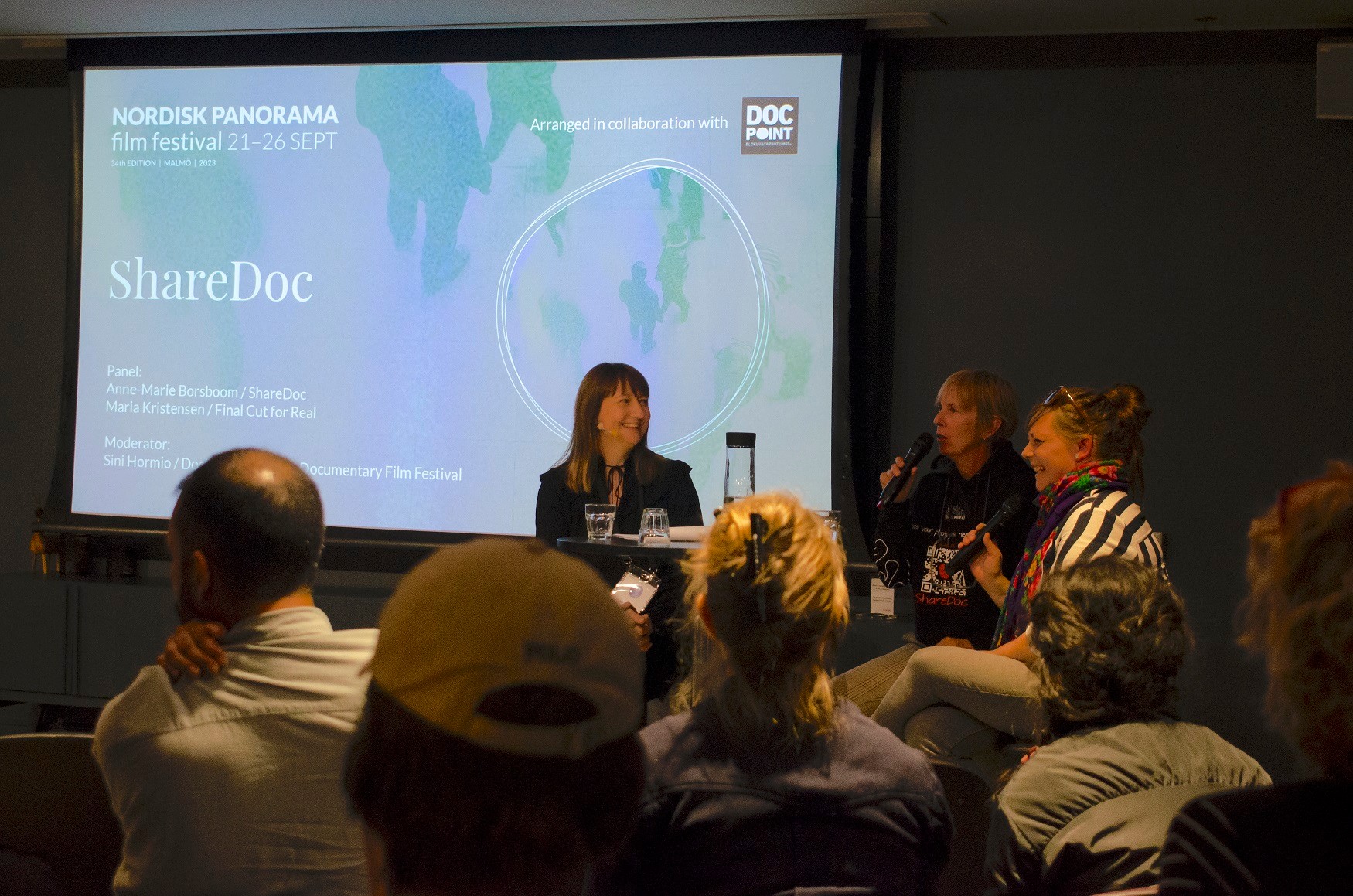 Meanwhile, the ShareDoc QR code for A House Made of Splinters allowed the collection of almost €9,000, a sum that enabled the protagonists to be supported fully, with the excess funds now being spent on the construction of a new school. Kristensen pointed out how Borsboom has a very sensible approach to the projects involved and warned that ShareDoc "is not a money machine; […] it cannot work miracles. You need an audience for your film. We have one film that raised almost €30,000 [Daughters of the Sun by Reber Dosky, which has raked in €29,698 to date], but that happened because it was released widely and many viewers went to the screenings. Not everybody will donate, even though they may have developed empathy and felt engaged, so it stops there [for them]. We've figured out that about 5% will donate," Borsboom further explained. She added that if the value of the donations is up to €5,000, the funds can be given to the protagonist(s) directly by the producer. Otherwise, the funds will be sent to a local organisation.
A number of different payment options are available, even though providers like PayPal charge high fees on each transaction. ShareDoc currently hosts 40 documentaries on its platform.
Borsboom underscored how small amounts by European standards can actually make all the difference for protagonists living in poorer areas of the world. Specifically, she touched upon the mid-length animated documentary Inside Kabul, which raised about €3,000. The amount corresponds to almost two local yearly salaries, so it was enough for the protagonist to flee the Afghani capital and move to France.
ShareDoc is an initiative backed by Creative Europe. Documentary makers can add a special, editable "hands on" button to the page linked to their QR code in order to keep the audience up to date about the protagonists and the film, to promote a petition or a protest, or to set up any other call to action.